A look back at World War I
Frank Buckles misrepresented his age to recruiters in 1917 because the 16-year-old yearned for the adventure of warfare. His service in "the war to end all wars" left him with a fresh understanding of the horror. News that Buckles passed away Sunday at 110 years old makes  it a fitting time to reflect on what remains in our collective conscience. The Vanishing Georgia Collection contains a number of photos,  mostly depicting  life around the state.
Here is a "bird's eye view" of a tent city, thought to be Camp Hancock near Augusta.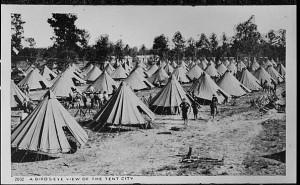 In Liberty County members of the class of 1918 at State Normal School unveiling the WWI service flag that the students made and presented on the steps of the county Courthouse.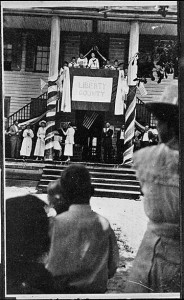 In France, where Frank Buckles served, Georgia boy Tola Harris dons a uniform complete with a chilling gas mask around his neck.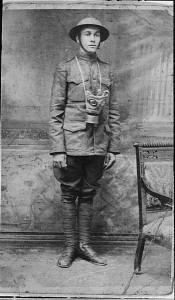 Down in Fitzgerald, WWI Red Cross nurses are seen on a float in front of  the Carnegie Library on S. Lee Street, circa 1918.