ATHENS, Ga.,  June 13, 2023 — Selected by statewide cultural heritage stakeholders and funded by the DLG's competitive digitization grant program, this collection is the City of Sugar Hill's latest collaboration with the DLG and is available here: City Government Records.
The collection includes city council minutes, ordinances, resolutions, communications, economic studies, and other information ranging from the date the city was incorporated by the Georgia General Assembly (March 24, 1939) through the year June 1992. 
The digitized collection was also funded in part by a 2022 Georgia Historical Records Advisory Council (GHRAC) grant award administered to local historical repositories to develop and/or implement projects that identify, preserve, and provide access to historical records. Funding was made possible thanks to the National Historical Publications and Records Commission (NHPRC) and the Georgia Historical Records Advisory Council (GHRAC).
These documents, which in their original form were stored in the City Archives room in file cabinets for years and with limited access, are now available for researchers interested in the diverse issues addressed through its many ordinances.  The information in the records ranges from what types of businesses were allowed to operate in the city limits to rules guiding the resident's property rights.  It also includes records related to the city's handling of property annexations, salary information for city government officials and staff, and rate/fee comparisons on utility rates (water, sewer, gas, sanitation) in the nearby localities.  In addition,  data that reflects the state's cultural, political, social, geographic, and economic diversity provides a broader view of the community's growth over the decades. 
Brandon S. Hembree, Mayor of the City of Sugar Hill, notes:
"The Sugar Hill Historic Preservation Society was created by the City of Sugar Hill in 2015 with the mission of expanding the community's awareness and appreciation for Sugar Hill's past. The City celebrated its 84th birthday on March 24, 2023. We have a rich history and, as the current Mayor, I often view these City Council ledgers for information about our past and inspiration for our future as a community."
[View the entire collection online]
###
About the City of Sugar Hill
The Sugar Hill Historic Preservation Society meets on the 3rd Wednesday of each month at 7 pm. All meetings are held in the History Museum Room at Sugar Hill City Hall. You can find out more at: https://cityofsugarhill.com/government/boards-commissions/historic-preservation-society/.
Selected images from the collection: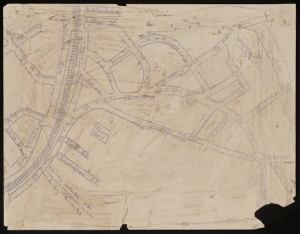 Image courtesy of Sugar Hill Historic Preservation Society (Sugar Hill, Ga.)
Sugar Hill, Georgia city council minutes, December 22, 1948-December 3, 1964
Title : Sugar Hill, Georgia city council minutes, December 22, 1948-December 3, 1964.https://dlg.usg.edu/record/shgapc_cgr_144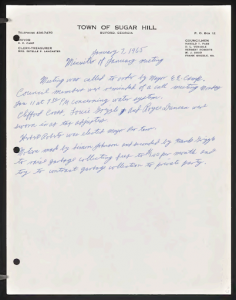 Image courtesy of Sugar Hill Historic Preservation Society (Sugar Hill, Ga.)
Title : Sugar Hill, Georgia city council minutes, January 7, 1965-December 20, 1975
https://dlg.usg.edu/record/shgapc_cgr_145