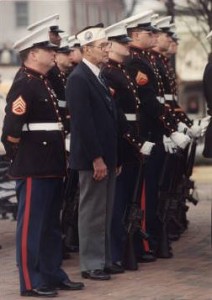 Seventy-four years ago, on December 7, 1941, Japanese planes attacked the Pearl Harbor naval station on Oahu Island in Hawaii.  More than 2,400 Americans, mostly non-combatants, were killed. The next day, the United States entered World War II by declaring war on Japan.  On Pearl Harbor Remembrance Day, all federal agencies and interested organizations are encouraged to fly the United States flag at half-staff in honor of those who died at Pearl Harbor.
The Digital Library of Georgia includes historic image, video, and oral history resources that feature first-hand information about the Pearl Harbor attack and the observation of Pearl Harbor Remembrance Day.
From our partners at the James G. Kenan Research Center at the Atlanta History Center is an oral history interview with Denver D. Gray. Gray served as a lieutenant colonel in the 17th Air Base Group, U.S. Army Air Forces, at Hickam Field, Hawaii during World War II. During this interview, he describes watching a B-24 Liberator bomber burn during the Japanese attack on Pearl Harbor, December 7, 1941. The interview is part of the Veterans History Project.
From the Walter J. Brown Media Archives and Peabody Awards Collection is WSB-TV newsfilm footage of a December 7, 1964 interview with an unidentified military admiral who describes his experience living by Pearl Harbor. He makes several observations about the day of the attack and the reporting of the attack by radio. He also includes a story of his wife building an impromptu bomb shelter using mattresses.
We hope that these resources help draw attention to the sacrifices of veterans who served during World War II, and honor the memory of those lives lost during the tragedy of Pearl Harbor.