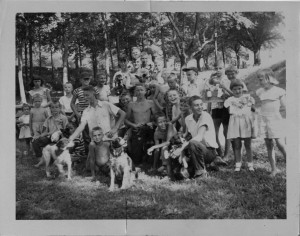 The Digital Library of Georgia is pleased to announce two brand-new online exhibitions on the subjects of children in Progressive-era America, and Georgia's home front during World War II that are now available through the Digital Public Library of America (DPLA). These exhibitions were created as part of the DPLA's Public Library Partnerships Project (PLPP) by collaborators from the Digital Library of Georgia (DLG), DPLA, and Georgia's public libraries.
Children in Progressive-Era America, available at
http://dp.la/exhibitions/exhibits/show/children-progressive-era
In twenty-first century American society, childhood is popularly understood as a time of innocence, learning, and play. At the end of the nineteenth century, however, children made up part of the country's workforce, and labored on farms and in factories. Reformers during the Progressive Era—a period of social activism and political reform across the United States between the 1890s and 1920s—took a great interest in child welfare. Through organizations and legislation, they sought to define what a happy and healthy childhood should be in the modern age. The formula for a healthy childhood was further refined in postwar America.
Central themes in the exhibit include: work life, reform, public health, play, children's organizations, and childhood in postwar America.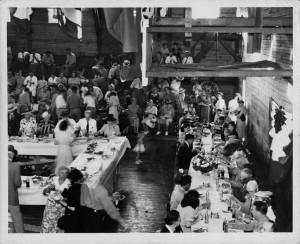 Georgia's Home Front: World War II, available at
http://dp.la/exhibitions/exhibits/show/home-front-world-war-ii
Three years before the United States entered World War II, President Roosevelt declared the South to be "the nation's number one economic problem." Georgia's economy was distinctly agricultural and low-wage, with little manufacturing compared with states in the North and Midwest. One year later, an influx of federal defense money established new wartime industries. Military training was widespread throughout Georgia, and World War II employment was crucial to the economic development of the state, ushering in the transformation to a modern, industrial, and diverse Georgia.
The exhibit covers key themes that include: military activities, soldiers and families, women's involvement in the war, civilian war efforts, and homecoming after the war's end.
PLPP, funded by the Bill and Melinda Gates Foundation, is a project that connects existing DPLA service hubs (state, regional, or other collaborations that host, aggregate, or otherwise bring together digital objects from libraries, archives, museums, and other cultural heritage institutions) with public librarians. The DLG became one of the first six service hubs for DPLA in 2013. Since then, the DLG has worked with public libraries statewide who have special collections and want to share their content with a broader audience, but may not have the resources to do so. Through PLPP, the DLG has provided digital skills training for Georgia public librarians, and has connected them with sustainable state and regional resources for digitizing, describing, and exhibiting their cultural heritage content online. Much of the training, digitization, and description of public library materials has taken place over the past year; items curated from this now-digitized public library content provide visual context for these two exhibits. "These new themed virtual exhibits, hosted by DPLA, provide a way to globally showcase the important historical materials held by public libraries in Georgia," said Sheila McAlister, director of the DLG.
Cynthia Kilby, director of the Pine Mountain Regional Library System, which serves Meriwether, Upson, Talbot, and Taylor Counties in Georgia, appreciates the opportunities that PLPP has provided in creating access to her collections. Materials from Pine Mountain Regional Library's collections are available in the Children in Progressive-Era America exhibit.
"I think this project will be helpful for patrons and they will enjoy it. Patrons can look and see images of their parents and grandparents and enjoy that. And children can use this as a resource for school projects," Kilby said: "We don't have an archives in the community, so this kind of material isn't readily available except through this program."
Wendy Cornelisen, assistant state librarian for Library Innovation and Collaboration, Georgia Public Library Service, said "Many of Georgia's public libraries have unique items that have been cherished by the local community for years. In the past, historians would have to spend time and money to get to that local history. Thanks to Digital Library of Georgia and DPLA, the Public Library Partnerships Project has helped uncover and share some of this history with students and scholars around the world. These unique items help paint a more complete picture of our state's history."
We hope that you enjoy these new exhibitions!