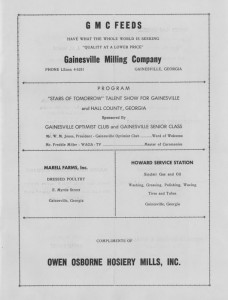 We are excited to announce a new collection, the Hall County Library System Collection, which comes from our longtime partner, the Hall County Library System.
It is available at http://dlg.galileo.usg.edu/CollectionsA-Z/bgh_search.html
This collection was digitized as part of the DPLA's Public Library Partnerships Project (PLPP), which connects public librarians and public library collections with the DLG and DPLA. We appreciate the opportunity to work with Georgia's public libraries and learn more about the communities that they serve.
Ronda Sanders, who oversees the Sybil Wood McRay Genealogy & Local History Collection of the Hall County Library System describes the history of the Hall County Library System, which serves a county population of over 187,700 people.
"Prior to 1933, the ladies of the Grace Episcopal Church started a small community library in the basement of their church.  The tornado of 1936 destroyed the Grace Episcopal Church along with the library.  Because of this loss to the community, Hall County residents started the groundwork for a public library in Hall County, Georgia. The first meeting of the Hall County Library Board was held in 1937.  In March of 1938, the Hall County Library System officially moved into the basement of the courthouse where it remained until a modern two story library building was dedicated on February 8, 1970.  The library system has always been involved in the preservation of Hall County's history."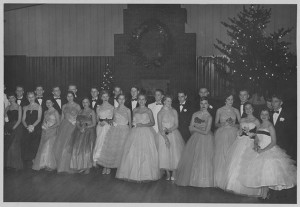 The Hall County Library System Collection contains photographs and memorabilia related to Gainesville, Georgia, Gainesville High School and Riverside Military School, and features photographs, flyers, dance invitations, concert programs, student newspapers and yearbooks belonging to Vera "Buzzie" Bennett, a student at Gainesville High School in the 1950s. The collection also includes a 1819-1926 record book for the Inferior Court in Gainesville, and a 1911 Riverside Military School yearbook.
A large part of the work on the Hall County Library System Collection has been done by library staff and devoted volunteers, including Sybil McRay, Louise White, LoRetta C. Parker, Mary Gallant, Susan Stewart, Tina Dumestre, Adrian Mixson, and Ronda Sanders.
We would like to thank the Hall County Library System for another opportunity to collaborate on bringing their valuable resources to the Digital Library of Georgia, and hope that you enjoy looking through the new Hall County Library System Collection!