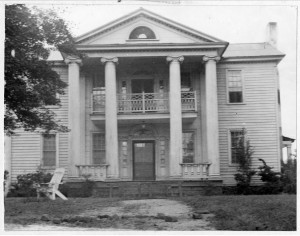 We are pleased to announce the Turner Scrapbook Collection, brought to you courtesy of the Newton County Library System (NCLS). The collection comes to us as part of the Bill and Melinda Gates Foundation-funded Public Libraries Partnerships Project (PLPP), where the Digital Library of Georgia has been granted the opportunity to work collaboratively with public librarians to provide digital skills training and resources to make their cultural heritage content available online.
Britt Ozburn, Materials Coordinator at the Newton County Library System, tells us: "Newton County has a long, significant history and beautiful architecture.  This scrapbook is a collection of artifacts that contribute to telling our county's story, as they were seen decades ago in our local community."
The Turner Scrapbook was donated to NCLS in the 1970s by Nat S. Turner, Jr., a local businessman and three-term mayor of Covington, Georgia. In the 1940s, Turner took several black and white photographs around Covington, including the Oxford campus of Emory University, and compiled them into a scrapbook.
Ozburn notes: "The collection shows many well-known iconic buildings around Newton County, some of which no longer exist.  Many of these buildings date back to before the American Civil War.  They also represent a history of Emory University's Oxford campus." The collection also contains images of large homes located adjacent to Covington's downtown square.
We hope you take a peek at this new collection, and welcome the Newton County Library System as a new project partner!