The first federally recognized Native American Heritage month was celebrated in 1990, when president George H. W. Bush approved a joint resolution that designated November 1990 "National American Indian Heritage Month."  The commemorative month follows nearly a century of efforts to recognize the contributions of Native Americans to the shaping of American life.
Some Native American resources in the Digital Library of Georgia include:
The Cherokee Phoenix, the country's first Native American newspaper,  which was printed bilingually in both Cherokee and English from the Cherokee  Nation capital of New Echota, Georgia from 1828 to 1834. It is available as part of the Georgia Historic Newspapers collection.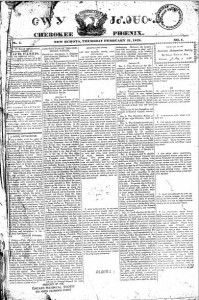 The publication "Antiquities of the southern Indians, particularly of the Georgia tribes" by Charles Colcock Jones is available as part of the Georgia-related Publications from the Internet Archive collection.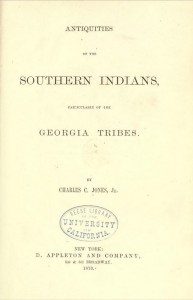 The Historic Georgia Codes Collection includes the 1802 digest of the laws of the state of Georgia that includes treaties held between the United States, the state of Georgia, and Native American tribes. The document is titled "Digest of the laws of the state of Georgia, from its settlement as a British province, in 1755, to the session of the General assembly in 1800, inclusive. Comprehending all the laws passed within the above periods, and now in force, alphabetically arranged under their respective titles: also the state constitutions of 1777 and 1789, with the additions and amendments in 1795, and the constitution of 1798. To which is added, an appendix: comprising the Declaration of American independence; the Articles of confederation and perpetual union; the federal Constitution, with the amendments thereto: all the treaties between the United States and foreign nations; the treaties between the United States and the different tribes of Indians; and those between the state of Georgia and the southern and western Indians. With a copious index to the whole. Comp., arranged and digested from the original records, and under the special authority of the state. By Horatio Marbury & William H. Crawford, esqrs."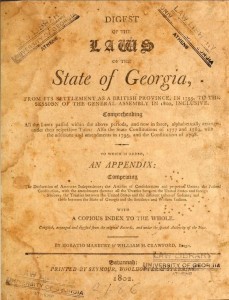 Relics from the historic Chief Vann House historic site are available as part of the Lane Brothers Commercial Photographers Photographic Collection, 1920-1976 (Chief James Vann was a wealthy Georgia Cherokee leader and planter).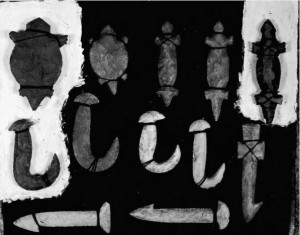 A photograph of the Kolomoki burial mounds, in Blakely, Georgia, taken on July 1, 1945 during an anthropological visit with members of the Smithsonian Institution, is available as part of the Atlanta Journal-Constitution Photographic Archive.