Pro- and anti-LGBTQ activities and demonstrations in Cobb County circa 1995 are the main component of a new digital collection belonging to Georgia State University Special Collections, funded by a competitive digitization grant awarded by the Digital Library of Georgia (DLG). GSU Special Collections received a service grant awarded in 2020 to broaden the DLG's engagement with diverse institutions and collections across the state of Georgia. 
The Carol Brown Papers, 1993-2012 (bulk 1993-1994) document pro- and anti- LGBTQ+ activities and legislation in Cobb County, and belong to Georgia State University Special Collections' LGBTQ Digital Collection, available at https://digitalcollections.library.gsu.edu/digital/collection/lgbtq.  
In July of 1993, in response to complaints by residents, Cobb County Chairman Bill Byrne challenged county funding for Marietta's Theatre in the Square, particularly as two of its plays– David Henry Hwang's M. Butterfly and Terrence McNally's Lips Together, Teeth Apart — included mild gay themes. 
In August, Cobb County commissioner Gordon Wysong led the Cobb County Board of Commissioners to two anti-LGBT+ resolutions: one specifying that funding would only be provided for art that promoted "strong community, family-oriented standards," and the other stating that "lifestyles advocated by the gay community should not be endorsed by government policymakers, because they are incompatible with the standards to which this community subscribes; and that gay lifestyle units are directly contrary to state law." 
Marietta civic leader and activist Jon Greaves and local community members immediately responded by organizing together as the Cobb Citizens Coalition (CCC) to challenge the resolutions.
The CCC gained important allies in February 1994, when Atlanta-based activists Pat Hussain and Jon-Ivan Weaver established Olympics Out of Cobb County (OOCC). Their mission was to persuade Atlanta's Committee for the Olympic Games not to hold the women's volleyball competition in Cobb County as planned. Their efforts succeeded: ultimately, the women's volleyball competition was held in Athens at the University of Georgia instead, and the Olympic torch bypassed Cobb County altogether. 
While CCC was active, CCC member and Marietta resident Carol Brown documented the organization's activities and those of OOCC by recording protests, marches, and local news coverage, using audiocassettes, videotape, and photography. 
She also saved almost-daily newspaper reports, providing a wide range of coverage of events as they unfolded in Cobb County. The audiovisual materials have been digitized and described by the DLG as part of its service grant, and the newspaper reports were digitized in-house at Georgia State University. 
Carol Brown also recounted her personal memories in an oral history that is part of the Activist Women's Oral History Project. Together, they provide a rich and powerful narrative about a small community's response to local discrimination that garnered international interest. 
Carol Brown's materials are unique and significant to Georgia because so much of Georgia's recorded LGBTQ+ history has been Atlanta-focused. Carol Brown's materials focus on pro-and anti- LGBTQ+ activities in traditionally conservative Cobb County. They are also important because they highlight several challenging backstories about art censorship, community protest, and the 1995 Olympic Games that garnered national and international interest. 
More about the Carol Brown Papers, 1993-2012 (bulk 1993-1994) Collection
Digitization of audiovisual items from the Carol Brown Papers, 1993-2012 (bulk 1993-1994) focusing on pro-and anti- LGBTQ+ activities in traditionally conservative Cobb County and the campaign to move 1996 Olympic events out of the County. Furthermore, in a time of daily protest that we find ourselves in now, the collection illustrates the power of creative, peaceful protest.
About the Georgia State University Special Collections and Archives (Women's / Gender and Sexuality Collections)
The Women's Collections chronicle women's activism and advocacy in Georgia and the Southeast. Within this curatorial area are several notable collections: the Donna Novak Coles Georgia Women's Movement Archives, the Lucy Hargrett Draper Collections on Women's Rights, Advocacy and the Law, and the Archives for Research on Women. For more information, read the Women's Collections research guides at research.library.gsu.edu/womenscollections. The Gender and Sexuality Collections document LGBTQ+ communities in Georgia and the Southeast. For more information, read the Gender and Sexuality research guide at https://research.library.gsu.edu/c.php?g=912561.
Selected stills from the collection: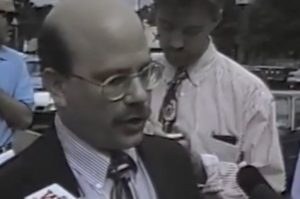 Title : [Press conference to announce rally on Square, June '94. Raw footage. CD ???]
Description:
Video recording of a press conference held to announce a demonstration entitled "And justice for all, Cobb rally for human rights" to be held on August 28, 1993, the 30th anniversary of Martin Luther King, Jr.'s March on Washington for Jobs and Freedom. Leaders from three co-sponsoring organizations, the Marietta Interfaith Alliance, the Network for Social Responsibility, and the Cobb Citizens Coalition, give statements and answer questions from the press about the rally and their reasons for holding it, which is for the Cobb Commission to change or rescind an anti-LGBTQ+/anti-gay resolution negating the human rights of gay citizens of Cobb County, Georgia.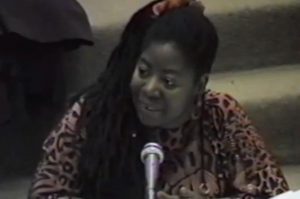 Title : [Stop Hate Politics seminar 11/6/1993. Meg Riley, Hans Johnson, Loretta Ross. Tape 1]
Description: Video recording of a portion of the "Stop Hate in Politics" seminar entitled "Righting the Wrongs of the Religious Right…Can We?" which took place on November 6, 1993. The recording presents speakers (including civil rights activist and public intellectual Loretta Ross, shown in this image) who discuss the manner in which right-wing Christian fundamentalists have weaponized their response to American liberal politics, and the importance of building common ground against violent right-wing trends.