You will find every single American president somewhere in the Digital Library of Georgia, whether it be in the newspaper archives, the Georgia Government Publications site, or the Vanishing Georgia Collection. Below we present just a few presidential items you might come across in your digital library adventures.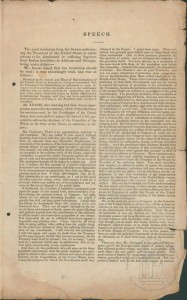 To the right is an image of a speech given by John Quincy Adams on May 25, 1836. The speech was given during his stint as a U.S. representative from Massachusetts after his one term as president. He is the only American president to return to Congress after serving in the highest office in the country. In the speech, he addresses a resolution to provide aid to citizens of Georgia and Alabama who were displaced by Native American "hostilities." He states his intention to vote for the bill, but also scolds those who were responsible for inciting the violence through their cruel treatment of the Native Americans. The seven page speech is part of the Southeastern Native American Documents Collection. If you click on the image to the right, it will redirect you to the collection, where the full text of the speech is available in image and transcribed form.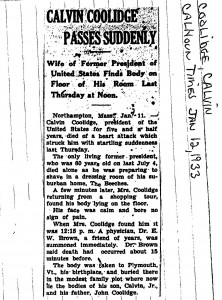 To the left is an image of Calvin Coolidge's obituary from the January 12th, 1933 issue of the Calhoun Times. As Warren Harding's vice-president, Coolidge ascended to the presidency following Harding's death and served in the office from 1923 to 1929. At the time of his death, Coolidge was the only living former president.  The obituary is part of the Gordon County, Georgia Obituaries collection. The obituaries in the collection were collected and pasted on index cards and have been digitized in conjunction with  the Calhoun-Gordon County Public Library. The collection is comprised of over 46,000 clippings and includes obituaries from local citizens and Georgians of national prominence, including Eugene Talmadge and Margaret Mitchell.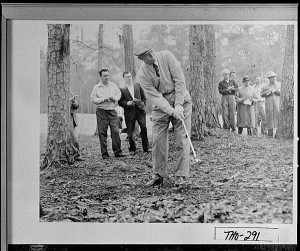 On the right is an image of Dwight D. Eisenhower playing golf at the Glen Arven Country Club in Thomasville, Georgia, during his presidency in early 1956. Ike was an avid golfer and frequented the most prestigious golf courses in the Georgia. There is even a cabin at the Augusta National Golf Club bearing his name. The cabin was built specifically for the president to accommodate his frequent visits. The image is from the Vanishing Georgia Collection.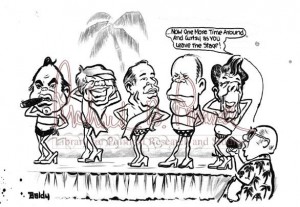 The political cartoon to the left depicts candidates in the 1976 presidential election as beauty pageant contestants. The candidates from left to right are George Wallace, Jimmy Carter, Henry "Scoop" Jackson, Gerald Ford, and Ronald Reagan. Carter eventually defeated Ford in the general election and Reagan would have his chance four years later. The cartoon is from the Baldy Editorial Cartoons Collection in the Richard B. Russell Library.