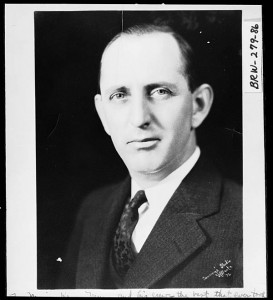 In the annals of Georgia political history, there have been many famous men, including President Jimmy Carter. But no other can surpass or even equal the power and influence of Sen. Richard B. Russell Jr. His career in the U.S. Senate — following service as the youngest governor of Georgia — spanned five decades and six presidents and most of the major political events of the 20th century bear his imprint in some way.
Russell died on Jan. 21, 1971 and while many young people may not be able to tell you who he was, the last 40 years have not diminished his influence. Following his death, supporters established the Richard B. Russell Foundation, Inc. and they have continued to support activities that exemplify his ideals, including funding the Richard B. Russell Library for Political Research and Studies, chaired professorships, scholarships and teaching awards.  Russell's name adorns a U.S. Senate office building, the federal building in Atlanta,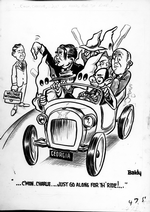 school buildings (he was the chief sponsor of the National School Lunch Act), a dam, a lake, highways, an airport, among others.
Russell's entry in the New Georgia Encyclopedia details his many accomplishments, as well as his views on race relations, which many believe kept him from being elected president.
Russell is also featured in the Clifford Baldowski Editorial Cartoon Collection, held in the political library which bears his name, including this one reflecting Georgia's changing views on race.