The Digital Library of Georgia (DLG) is pleased to announce the addition of the McDuffie Museum Collection to the DLG and to the Digital Public Library of America (DPLA).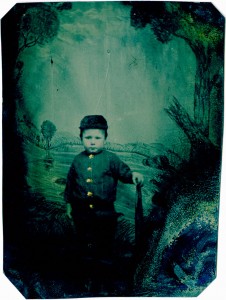 The collection includes digitized photographs, letters, newspapers, postcards, maps and government documents from the American Revolution through the early twentieth century. Though a small collection of fifty-three items, it is a highly curated group of high-interest pieces, including an 1864 map of Cobb County hand-drawn by a Union spy, a letter written by Abraham Lincoln while an attorney in Illinois, and an 1864 photograph of General Sherman and his troops gathered near Atlanta. The collection also contains two issues of "The Jeffersonian," in which Thomas E. Watson, the Georgian politician and publisher, rails against criticism of the infamous hanging of Leo Frank, who was convicted of murdering 13 year-old Mary Phagan in 1915. Of particular interest is a series of stereographic cards, a nineteenth century 3-D imaging technique in which two offset images produce a three-dimensional image when viewed with a device (or with crossed eyes).
The DLG invited the volunteer director of the McDuffie Museum, Lewis Smith, and his wife JoAnn, to bring the collection materials from Thomson, Georgia to Athens for scanning and metadata capture. This is the first of the DLG/DPLA digitization projects that, from start to finish, was executed in-house.
As a service hub for the DPLA, the Digital Library of Georgia provides digitization and metadata assistance for its partner institutions around the state. The DLG also aggregates and shares metadata about digital items with the DPLA, allowing the DPLA to act as a portal to these collections. Thanks to grants from the John S. and James L. Knight Foundation and the Arcadia Fund, the Digital Library of Georgia has digitized and described these items for inclusion in both the DLG and the DPLA. The McDuffie Museum Collection will be a rich resource for students of Southern history.