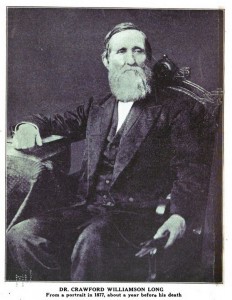 November 1 , 2015 marks the 200th anniversary of the birth of Crawford Long, the North Georgia surgeon and pharmacist acknowledged as the first practitioner of anesthesia.
Long was born in Danielsville Georgia, received his undergraduate degree at the University of Georgia in 1835, then attended medical school, where he began at Transylvania College in Lexington, Kentucky, and finished at the University of Pennsylvania in 1839.  Long performed his first surgery using sulfuric ether as an anesthetic on March 30, 1842, but did not publish his findings until 1849. Long opened a medical practice and a pharmacy in Athens, Georgia in 1851, where he remained until his death in 1878. Long finally received national recognition as the discoverer of anesthesia in 1879 (one year after he passed away) by the National Eclectic Medical Association.
For more in-depth reading, you can find the publication Some personal recollections and private correspondence of Dr. Crawford Williamson Long, discoverer of anæsthesia with sulphuric ether; together with documentary proofs of his priority in this wonderful discovery, by Dr. Joseph Jacobs, who apprenticed as a young man in Crawford Long's Athens pharmacy.
Also available is Frank Kells Boland's book The first anesthetic : the story of Crawford Long, published by the University of Georgia Press.
A photograph of Crawford Long's house on Chase Street in Athens is available as part of Hargrett Library's Earnest Photographs collection, and several postcards of the Crawford W. Long Monument in Jefferson, Georgia (here and here) are available as part of the Georgia Archives' Historic Postcard Collection.