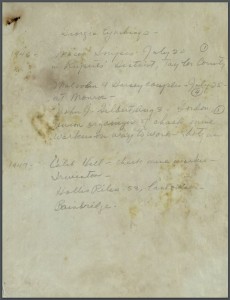 July 25 is the seventieth anniversary of the Moore's Ford lynchings, where George W. Dorsey, Mae Murray Dorsey, Roger Malcom and Dorothy Malcom, all Walton County sharecroppers, were killed by a white mob near Moore's Ford Bridge in Monroe, Georgia. The lynching was reported in the national press, and was investigated by both the Georgia Bureau of Investigation and the FBI. Despite these efforts to seek justice, no one was ever indicted for the crime.
On July 25, the Moore's Ford Movement is hosting the 12th annual reenactment of the lynchings that begins at 10 a.m. at First African Baptist Church in Monroe, and travels to the Moore's Ford bridge.
There are numerous resources in the DLG, the New Georgia Encyclopedia, and the Civil Rights Digital Library about people who worked for the anti-lynching movement.
Here are a few:
Clippings and notes regarding lynching collected and written by investigative reporter and labor activist Stetson Kennedy.  Page 30 of the PDF includes Kennedy's handwritten notes on the Moore's Ford lynching in Monroe.
Commission on Interracial Cooperation
New Georgia Encyclopedia article about the Commission on Interracial Cooperation (CIC), founded in Atlanta in 1919, which worked until its merger with the Southern Regional Council in 1944 to oppose lynching, mob violence, and peonage and to educate white southerners concerning the worst aspects of racial abuse.
Oral history interview with Willie Snow Ethridge, December 15, 1975
During the 1920s and 1930s, Ethridge was actively involved in the anti-lynching movement. Working primarily within the Association of Southern Women for the Prevention of Lynching, Ethridge both wrote and spoke about lynching and its implications for African Americans and poor whites.
Here is an excerpt from her oral history interview where she discusses working for the anti-lynching movement in the 1920s and 1930s.
Oral history interview with Clark Foreman, November 16, 1974
This interview covers three separate conversations with Clark Foreman regarding his career in race relations, public service, and politics. His childhood in Georgia and his travels in Europe led to his work for the Commission on Interracial Cooperation in Atlanta. Foreman witnessed a lynching while he attended University of Georgia. The event seemed horrific and barbaric to him and to his family members. Here is an excerpt from his oral history interview where he discusses witnessing the lynching.
Oral History Interview with Broadus Mitchell, August 14 and 15, 1977
This interview with economic historian John Broadus Mitchell , who, while teaching at Johns Hopkins University in the 1930s came under the administration's scrutiny when he publicly spoke out about a lynching in Salisbury, Maryland. Here is an excerpt about that experience.

No tags for this post.