Happy National Library Week and School Library Month 2022!
National Library Week is April 3 – 9, 2022
Books are great, but for us to fully appreciate the value of libraries, we also need to recognize that they offer a broader spectrum of opportunities to promote proactive models of learning through access to technology, multimedia content, and educational programs. 
A perfect example of this kind of work comes from our partners at the Atlanta University Center Robert W. Woodruff Library, who planned an exhibit around the Atlanta Student Movement, the 1960s civil rights movement whose heart was centered within Atlanta's six historically black institutions of higher learning – Atlanta University, Clark College, Interdenominational Theological Center, Morehouse College, Morris Brown College, and Spelman College.
AUC Robert W. Woodruff Library built programming around an exhibit titled "Start Something: Activism and the Atlanta Student Movement," and invited American lawyer, historian, and academic administrator Dr. Tomiko Brown-Nagin to speak on Atlanta's protracted struggle for civil rights from World War II to 1980 as covered in her award-winning book, Courage to Dissent: Atlanta and the Long History of the Civil Rights Movement. 
Responsive library staff not only recognized this opportunity to build physical space for learning around this event for the communities they serve, but they also saw the potential for these resources to serve future users.
They made this happen by recording Dr. Brown-Nagin's presentation, making it accessible online, and enabling its aggregation through the Digital Library of Georgia. 
You can see this talk now at: https://dlg.usg.edu/collection/auu_auc-lib-lectures.
It's part of the AUC Robert W. Woodruff Library Lectures collection, one of several collections of work created by librarians held by that library.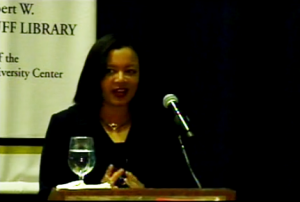 With all of that to think about, let's all celebrate National Library Week 2022 the way the American Library Association recommends: 
Visiting our libraries, which may include: 
Your local library

Your school library

Your favorite virtual and digital libraries
You can follow us in the following places, and interact with the hashtag #MyLibrary.
April is School Library Month 2022
If you would like to learn more about what school librarians do, here is a brief bit of information from the American Association of School Librarians (AASL)'s web site: "School librarians work with both students and teachers to facilitate access to information in a wide variety of formats, instruct students and teachers how to acquire, evaluate, and use the information and the technology needed in this process, and introduce children and young adults to literature and other resources to broaden their horizons. As a collaborator, change agent, and leader, the school librarian develops, promotes, and implements a program that will help prepare students to be effective users of ideas and information, a lifelong skill."
School Library Month is AASL's celebration of school librarians and their programs. April 2022 marks the 37th year that school librarians have celebrated school library month.
For more information about school librarians here in Georgia and nationwide, visit the following websites:
AASL – The American Association of School Librarians
The division of the American Library Association that advocates for school librarians and media specialists.
https://www.ala.org/aasl/
GLMA – The Georgia Library Media Association
The largest professional association in Georgia advocating for school librarians and media specialists.
http://www.glma-inc.org
Georgia Association of School Librarians
The Georgia Association of School Librarians seeks to bring together information professionals from all patron and student age groups to improve information literacy in Georgia.
https://gla.georgialibraries.org/divisions/georgia-association-of-school-librarians/
A big thank you to all of our school librarians for all of the work they do to manage school libraries and provide resources amidst changing school library environments!
Download our School Library Month 2022 poster here
and interact with the hashtag #AASLslm
Digital Library of Georgia social media:
GALILEO social media:
Have a great week!