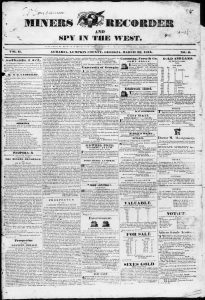 by Donnie Summerlin and Mandy Mastrovita
As part of a $17,980 grant from the R. J. Taylor, Jr. Foundation, the Digital Library of Georgia has digitized over 77,000 pages of Georgia newspaper titles in partnership with the Atlanta History Center. 
The newly-released collection includes rare nineteenth-century titles from north Georgia and previously unavailable titles from larger cities across the state. 
The project creates full-text searchable versions of the newspapers. It presents them online for free in its Georgia Historic Newspapers database. 
Users will be able to search the database for geographic, corporate, family, and personal names.
142 titles have been digitized from the following Georgia cities:
Alpharetta, Athens, Atlanta, Augusta, Auraria, Brunswick, Calhoun, Canton, Cassville, Carrollton, Columbus, Cumming, Dahlonega, Dalton, Douglasville, Marietta, Milledgeville, Gainesville, Griffin, Harlem, LaGrange, Lawrenceville, Lumpkin, Macon, Newnan, Norcross, Rome, Savannah, Thomasville, Valdosta, and Winterville.
Titles of interest include:
Miners Recorder and Spy in the West – A newspaper published in the north Georgia mining town of Auraria during the Georgia Gold Rush in the 1830s.
The Progressive Era – An African American newspaper published in Athens, Georgia, in the late nineteenth and early twentieth centuries.
The Soldier's Friend – A Christian newspaper published out of Atlanta for Confederate soldiers during the Civil War.
The Kennesaw Route Gazette – A newspaper published by the Western & Atlantic Railroad Company for its train passengers.
The full list of titles digitized as part of the grant includes:
Athens Evening Chronicle, 1889
Athens Weekly Chronicle, 1878-1882
Atlanta Daily Examiner, 1854-1855
Atlanta Evening Capitol, 1885-1887
Atlanta Weekly Examiner, 1855-1856
Atlanta Weekly Post, 1880-1881
Atlanta Universalist, 1881-1882
Banner and Baptist (Atlanta), 1862
Baptist Banner (Atlanta), 1862-1864
Baptist Banner (Cumming), 1880
Baptist Sun (Gainesville), 1889
Carroll County Times (Carrollton), 1880-1885, 1895
Cherokee Advance (Canton), 1880, 1898
Cherokee Advocate (Marietta), 1848
Cherokee Agriculturist and Patron of Husbandry (Dalton), 1875
Cherokee Georgian (Canton), 1875-1876
Cherokee Intelligencer (Canton), 1833-1834
Christian Index (Atlanta), 1879-1881
Christian Index (Atlanta), 1892-1897
Christian Index and Southern Baptist (Atlanta), 1881-1892
Columbia Advertiser (Harlem), 1881-1882
Columbia Sentinel (Harlem), 1886-1887
Columbus Daily Times, 1878-1885
Daily Argus (Dalton), 1910-1911
Daily Chronicle & Sentinel (Augusta), 1850
Daily Dispatch (Savannah), 1894
Daily Evening News (Macon), 1865
Daily Journal and Messenger (Macon), 1865
Daily New Era (Atlanta), 1865-1868
Daily Sun (Columbus), 1865-1873
Evening Herald (Atlanta), 1882
Evening Post (Brunswick), 1890
Evening Sentinel (Augusta), 1878-1879
Georgia Banner & Sentinel (Newnan), 1861
Georgia Constitutionalist (Augusta), 1845
Georgia Courier (Augusta), 1833-1835
Georgia Grange (Atlanta), 1873-1877
Georgia Literary and Temperance Crusader (Atlanta), 1861
Georgia Pioneer, and Retrenchment Banner (Cassville), 1835-1839
Georgia Record (Atlanta), 1899-1900
Georgia Statesman (Milledgeville), 1827
Great Kennesaw Route Gazette (Atlanta), 1886
Hustler of Rome (Rome), 1894-1898
Independent Blade (Newnan), 1861
Jewish Tribune (Atlanta), 1896
Kennesaw Gazette (Atlanta), 1886-1890
Kennesaw Route Gazette (Atlanta), 1875
Kind Words for the Sunday School Children (Macon), 1877
Living Issues (Atlanta), 1893-1894
Looking Glass (Atlanta), 1894-1897
Landmark Banner & Cherokee Baptist (Atlanta), 1859-1861
Marietta Semi-Weekly Advocate, 1861
Miners Recorder and Spy in the West (Auraria), 1834-1837
Morning Call (Griffin), 1898-1899
Mountain Signal (Dahlonega), 1861
National Republican (Augusta), 1868
New South (Douglasville), 1891-1906
New Western Railway Guide (Atlanta), 1887
New Working World (Atlanta), 1886
North Georgia Times (Dalton), 1860-1863
North Georgian (Gainesville), 1878-1883
Pilgrim's Banner (Valdosta), 1895-1897
Progressive Era (Athens), 1899
Republican Herald (Columbus), 1836
Rome Courier and Southern Statesman, 1859
Rome Hustler-Commercial, 1898-1899
Rural Southerner & Plantation (Atlanta), 1875
Savannah Daily Evening Recorder, 1879-1881
Savannah Daily Times, 1884-1886
Savannah Morning News, 1879-1883
Savannah Weekly News, 1894-1898
Semi-Weekly True Flag (Rome), 1861
Soldier's Friend (Atlanta), 1863
Southern Alliance Farmer (Atlanta), 1889-1892
Southern Confederacy (Atlanta), 1861
Southern Recorder (Milledgeville), 1846-1856
Southern Statesman (Calhoun), 1855
Southern Whig (Athens), 1834-1839
Southerner and Commercial Advertiser (Rome), 1861
Standard of Union (Milledgeville), 1836-1840
State Press (Macon), 1857-1859
Sun and Columbus Weekly Enquirer, 1874
Sunday Gazette (Atlanta), 1878-1880
Sunday Phonograph (Atlanta), 1879-1881
Weekly Atlanta Intelligencer, 1867-1870
Weekly Augusta Chronicle, 1893-1898
Weekly Chronicle & Constitutionalist (Augusta), 1881-1883
Weekly Chronicle & Sentinel (Augusta), 1843-1851
Weekly Constitution (Atlanta), 1870-1874
Weekly Constitutionalist (Augusta), 1862-1869
Weekly Georgia Constitutionalist and Republic (Augusta), 1852-1855
Weekly Republic (Augusta), 1849-1851
Weekly Southerner (Rome), 1861
Weekly Star (Douglasville), 1885-1887
Weekly Tribune (Rome), 1893-1895
Western Herald (Auraria), 1834
Wire-grass Reporter (Thomasville), 1861
Woman's Work (Athens), 1888-1910
Paul Crater, vice president of collections and research at the Atlanta History Center, emphasizes the impact that the digitization of  these newspapers will have on researchers of Georgia history:
"Composed of over 4,600 newspapers, the collection was assembled by William Grisham, a North Georgia resident who served as clerk of court for Cherokee county and postmaster for his community. 
The collection was donated to the Atlanta History Center in 2001 by Nell Galt Magruder, a descendant of Mr. Grisham.
The collection includes essential regional publications from Atlanta, Milledgeville, Marietta, Rome, and Augusta. 
It also has rare editions of the Cherokee Intelligencer, Miners Recorder and Spy in the West, and The Southern Whig. 
The collection is a valuable source for those interested in pre-Civil War Georgia, the Cherokee Removal, the North Georgia gold rush, the Civil War, Southern agriculture, and genealogy."
About the R. J. Taylor, Jr. Foundation  
The purpose of the R. J. Taylor, Jr. Foundation Trust is to promote genealogical research and study in Georgia in conjunction with the Georgia Genealogical Society and the Georgia Archives. Grants are made to individuals and organizations to defray the expense of publishing (print or digital) records of a genealogical nature from public and private sources. The primary emphasis is on preserving and making available to the public genealogical data concerning citizens of Georgia who were residents prior to 1851. Visit the R. J. Taylor, Jr. Foundation at http://taylorfoundation.org/  
About the Atlanta History Center
The Atlanta History Center through its collections, facilities, programs, exhibitions, and publications preserves and interprets historical subjects pertaining to Atlanta and its environs and presents subjects of interest to Atlanta's diverse audiences. Visit the Atlanta History Center at atlantahistorycenter.com