The Digital Library of Georgia and Georgia Public Library Service are pleased to provide a new, downloadable poster celebrating School Library Month 2019. The poster is available at http://bit.ly/dlg-gpls-school-library-poster. The photograph featured in the poster, courtesy of Pine Mountain Regional Library System, features a group of African American teenage girls, who formed a local school library supervision group in Manchester, Georgia in 1953.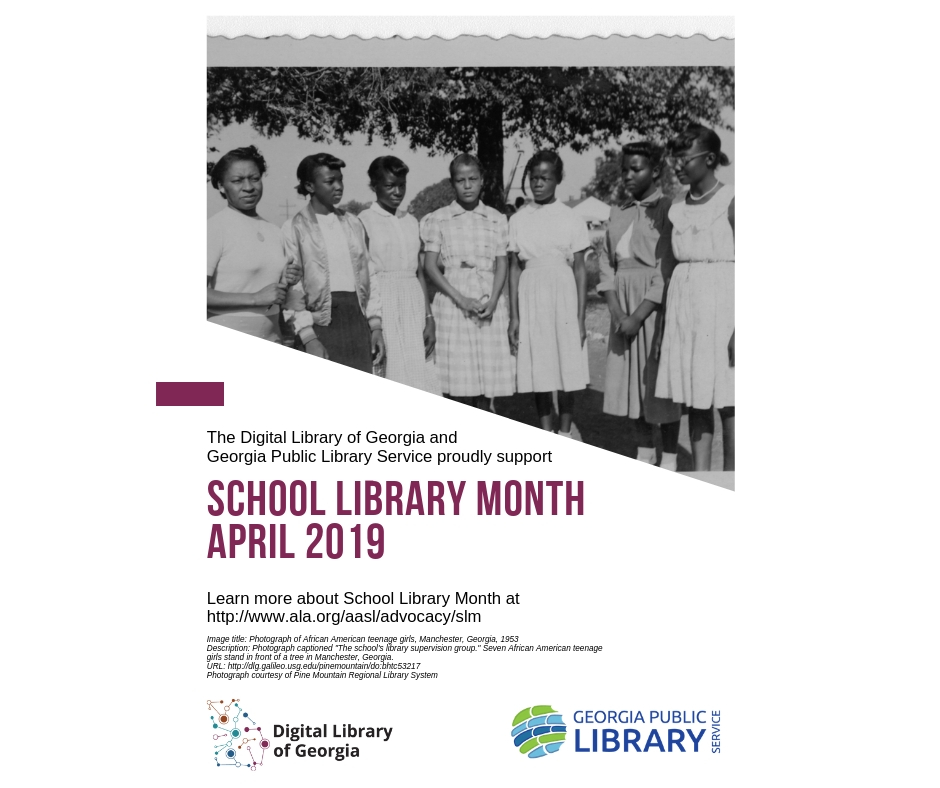 If you would like to learn more about what school librarians do, here is a brief bit of information from the American Association of School Librarians (AASL)'s web site: "School librarians work with both students and teachers to facilitate access to information in a wide variety of formats, instruct students and teachers how to acquire, evaluate, and use information and the technology needed in this process, and introduce children and young adults to literature and other resources to broaden their horizons. As a collaborator, change agent, and leader, the school librarian develops, promotes and implements a program that will help prepare students to be effective users of ideas and information, a lifelong skill."
School Library Month is AASL's celebration of school librarians and their programs. The 2019 theme for School Library Month is "Everyone Belongs @ Your School Library" and the 2019 spokesperson is children's book author and illustrator Dav Pilkey. 
For more information about school librarians here in Georgia and nationwide, visit the following web sites:
AASL – The American Association of School Librarians
The division of the American Library Association that advocates for school librarians and media specialists.
http://www.ala.org/ala/mgrps/divs/aasl/index.cfm
GLMA – The Georgia Library Media Association
The largest professional association in Georgia advocating for school librarians and media specialists.
http://www.glma-inc.org
Georgia Association of School Librarians
The Georgia Association of School Librarians seeks to bring together information professionals from all patron and student age groups to improve information literacy in Georgia.
https://gla.georgialibraries.org/divisions/georgia-association-of-school-librarians/
A big thank you to all of our school librarians for all of the work they do to manage school libraries and provide resources amidst changing school library environments!