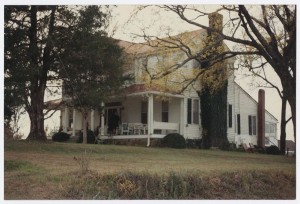 The DLG is excited to welcome the Elbert County Library as a new project partner, with the Elbert County Library Collection. The Elbert County Library Collection features a collection of photographs of the Beverly Plantation and William Allen House in Elbert County, Georgia.
The William Allen House was a two-story frame house built in the Classic Revival style. William Allen, a captain in the Elbert County militia, began living in this home around 1790. The house was part of Beverly Plantation, which dates back to the earliest days of Elbert County's settlement.
Janet Burroughs, the interim director of the Elbert County Library, notes: "The photos are unpublished, original source documentation of a historic home in Elbert County that is no longer in existence. This information is valuable to the many historic and genealogical researchers that trace their families back to Elbert County."
Digitized as part of the DPLA's Public Library Partnerships Project (PLPP), the Elbert County Library Collection is one of our newest collections featuring resources from public library collections. We would like to thank the Elbert County Library for collaborating with the Digital Library of Georgia to make its collection available for digitization, and hope that you enjoy learning more about the history of Elbert County.