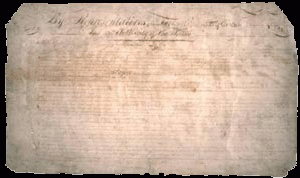 The University of Georgia Charter, written by educator, lawyer, and statesman Abraham Baldwin, was adopted 232 years ago this week by the Georgia General Assembly on Jan. 27, 1785. The document established the University of Georgia as America's first public university.
You can read more about the charter and its impact on higher education in a new article published Sunday by UGA Today.
The University of Georgia Charter is displayed each year in the Hargrett Gallery of the Richard B. Russell Building Special Collections Libraries on or near when Founders Day is celebrated. This year (2017),  it will be on display from January 23 through Jan. 27.
A history and transcription of the University of Georgia Charter can be found here.