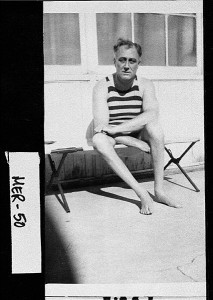 President Franklin D. Roosevelt slept late on the morning of April 12, 1945, at the Little White House in Warm Springs, Georgia. He had a slight headache when he awoke, but was soon up and about. He ate a light breakfast around 9:30 in preparation for a barbecue planned for that afternoon; he also planned a light lunch, then to go see some of the children at Warm Springs rehearse for a minstrel show that evening. FDR seated himself at his desk to go over some State Department papers, while chatting with some visiting cousins and friends, one of whom was there to do his portrait.
Roosevelt continued to sign routine official papers, while the artist worked on her portrait. At 1:00, he told her that they only had fifteen more minutes before they were to eat lunch and prepare for the barbecue. Actually, the artist was just filling in colors around the portrait, because Roosevelt had slid down in his chair while working and she did not want to disturb him. He lit a cigarette, raised his left hand to his forehead and pressed. Suddenly his hand fell, with the fingers twitching. One of his cousins asked if he had dropped something, and he murmured "I have a terrific headache." Then, Roosevelt's arm fell to his side, his head sagged, and his entire body slumped in the chair.
One of his cousins immediately summoned the doctor who was traveling with the president. When he arrived he discovered Roosevelt had stopped breathing; the stricken president's tongue was blocking his throat. The doctor cleared the blockage, and Roosevelt resumed breathing — but with a harsh, snoring sound. The president's blood pressure had skyrocketed, and one of his eyes was dilating uncontrollably. The medical prognosis was plain — Roosevelt had suffered what the doctor would characterize as a "massive cerebral hemorrhage."
Roosevelt was carried into his bedroom and the doctor began administering medicines to lower his blood pressure, but nothing he did had any effect. He called Roosevelt's doctor in Washington, who confirmed his diagnosis and treatment. A specialist in Atlanta was also called; he rushed to Warm Springs in only ninety minutes, seeing the ailing president at 3:30. But there was nothing any of the doctors could have done; the cerebral hemorrhage had been too severe. At 3:35 p.m. President Franklin D. Roosevelt died on his small bed in his small cottage in his beloved second home of Warm Springs, Georgia.
News of the President's death was first delivered to his wife Eleanor, still in Washington, D.C., and to Vice-President Harry Truman. Then at 5:47 p.m., the White House switchboard notified all the major news services that President Franklin D. Roosevelt had died in Warm Springs at 3:35 that afternoon. Within two minutes radio programs nationwide were interrupted to report the tragic news. Reactions ranged from shock to fear. To some young Americans, Roosevelt was the only President they had ever known. And to virtually all Americans, it seemed they had lost not only a leader but a friend who had guided them through the Great Depression and now was leading them toward a great victory as World War II approached its conclusion.
That evening, Eleanor flew on a military plane to Fort Benning, where she was picked up and driven by car to Warm Springs, arriving at 11:30. She began preparations for the funeral, its procession, and all the other details surrounding a death — all magnified in importance because of this special occasion. Eleanor and the president's staff worked throughout the night on the details of returning his body to Washington, the official services there, and the final funeral at Hyde Park, N.Y. The files for the planning of Roosevelt's funeral were kept on file at the White House and used eighteen years later by Jacqueline Kennedy.
One of Roosevelt's advisors had to travel to Atlanta to find a coffin large enough for his body. The coffin was placed on a bier made of Georgia pine in the last car of the presidential train. His boat cloak was spread across the lower part of his body. An American flag was taken from its pole at the Little White House and draped over the coffin.
Franklin D. Roosevelt left Georgia for the final time on April 13, 1945. One of the traditions at Warm Springs was the Georgia Hall greeting and farewell; Roosevelt would always greet the companions there upon his arrival in Warm Springs, then bid them farewell there as he left. Even in death the tradition was carried out. A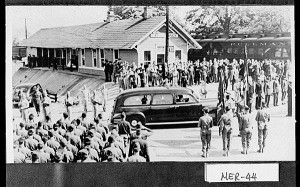 military procession from nearby Fort Benning escorted the hearse down the hill from the Little White House to Georgia Hall, with other soldiers lining the roadway (left, from the Vanishing Georgia Collection). A military band softly played dirges.
Where there were usually joyous shouts from the companions to Roosevelt as he departed, now there was the sound of anguished moans and bitter tears. Graham Jackson, a musician who had often played for Roosevelt and had been scheduled to perform in the minstrel show the previous day, stepped from the crowd and, with tears streaming down his face, played Dvorak's "Going Home" on his accordion as Roosevelt made his final departure from Warm Springs.
The train pulled out from Warm Springs around 9:05 a.m. The windows on the train car holding Roosevelt's coffin were left open, and the coffin was easily visible. Thousands of people gathered along the tracks as the train made its way through south and central Georgia to Atlanta. Eleanor was surprised at the response of the people; she had never been an active participant in Roosevelt's Warm Springs ventures, and rarely stayed long on her visits there. But now she was deeply moved as she witnessed just how strongly the people of Georgia (and other states as the train moved onward) loved him.
The train arrived in Atlanta at 1:30 p.m. on April 13. Soldiers were stationed around the terminal, and Atlantans filled the areas around the train station. Most stores were closed, and all flags were at half-mast. School children throughout Atlanta, Georgia, and the nation met to offer silent prayers for Roosevelt, his family, and his country. Atlanta Mayor William Hartsfield boarded the train and offered his condolences to Eleanor, along with a basket of flowers — which was placed at the head of the coffin.
After the forty minute stop in Atlanta, the train slowly began its northward trek, with thousands again lining the tracks — not just outside Atlanta, but at every railroad crossing and town through which it passed. Sometime on the afternoon of April 13, 1945, Franklin D. Roosevelt crossed the border of Georgia for the last time.
Atlanta Constitution writer Ralph McGill was overseas when Roosevelt died, and eloquently expressed his, and most of the world's, emotions upon hearing the news:
"To a Georgian far from home there was a sudden and bitter nostalgia for home at the news of the President's passing in Warm Springs. I could see the dogwood in bloom and the green of the trees. I knew that the peach blossoms were out and that the warm Georgia sun had been like a benediction to the tired body of the ailing president. And I wanted to be home with my own fellow Georgians as they mourned him. It was said of Abraham Lincoln when death claimed him that a tree is measured best when it is down. So it will be with Franklin D. Roosevelt. The tree is down and the historians will begin to measure and will find what the hearts of millions of Americans and peoples of the world already knew, that here was the tallest man America has ever given the world."
Note: the flag at the Little White House always flies at half-mast on April 12, in memory of this day.
For more on how FDR came to adopt Warm Springs as his second home, see FDR's Ties to Georgia.
Hazel and Betty Letter – written by two nurses at Warm Springs, describing the events surrounding FDR's death.

No tags for this post.