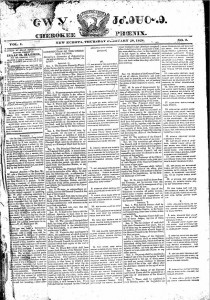 NPR's Fresh Air recently aired a book review of The Heathen School: A Story of Hope and Betrayal in the Age of the Early Republic by John Demos.  An excerpt is available here.
The Heathen School was the familiar name of Cornwall, Connecticut's Foreign Mission School, a nine-year venture that existed between 1817 and 1826, whose purpose was to educate and train non-white Christian missionaries. The book focuses upon the evangelical movement of the 19th century, and American attitudes on interracial relationships as demonstrated in the unfavorable, racially prejudiced reaction of Cornwall townspeople to two marriages: those of Harriet Gold and Elias Boudinot, and Sarah Northrup and John Ridge. Gold and Northrup were local white women; Boudinot and Ridge were Cherokee cousins from Georgia who were students at the Foreign Mission School. Both couples eventually moved to Cherokee Nation lands in the state of Georgia.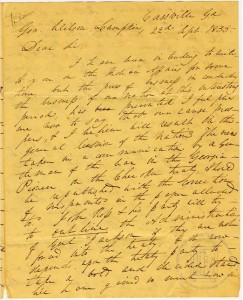 Elias Boudinot and John Ridge are represented in numerous materials in Southeastern Native American Documents, 1730-1842, and Boudinot's work as editor of the Cherokee Phoenix, the first Native American newspaper, can be seen in the Georgia Historic Newspapers collection.
Both Boudinot and Ridge were supporters of the 1835 New Echota Treaty, which required the Cherokee Nation to exchange its national lands east of the Mississippi River and relocate to a territory in present-day Oklahoma.  Their position was extremely unpopular with much of the Cherokee Nation. After having relocated to the new Indian Territory, Ridge and Boudinot were assassinated by a group of men who had opposed removal.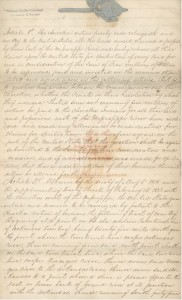 A copy of  the New Echota Treaty is available in the collection Southeastern Native American Documents, 1730-1842, and a letter from John Ridge to Georgia governor Wilson Lumpkin dated September 22, 1833 notifies the governor of murders committed against pro-removal Cherokees by anti-removal Cherokees.