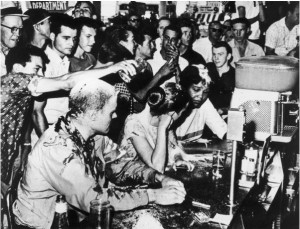 Civil rights activist and writer Anne Moody passed away on Thursday, February 5 at her home in Gloster, Mississippi.
Moody, a student at Mississippi's historically African American Tougaloo College, helped organize a peaceful sit-in at a segregated Woolworth's lunch counter in downtown Jackson on May 28, 1963, just after the Supreme Court delivered a decision that made sit-ins legal. Despite the legality of the sit-in, little protection was provided by Jackson police that day.
The participants of the sit-in were attacked by a white mob, who beat up one of the students to the point of unconsciousness, roughed up the other protestors, and dumped condiments over the heads of demonstrators sitting directly at the lunch counter.The sit-in lasted until Woolworths closed that evening.
Moody published a memoir of her experiences facing violence as a civil rights activist in the segregated South, called "Coming of Age in Mississippi." She can be seen in this photograph of the Woolworth's sit-in; she is seated at the lunch counter, the third person in. Alongside her are civil rights activists John Salter and Joan Trumpauer.
The photo of the sit-in seen here is available as part of Civil Rights Digital Library; the item belongs to the John R. Salter, Jr. papers, Wisconsin Historical Society, Madison, Wisconsin, and is available here
A short bio and link to historical resources on Anne Moody is here.

No tags for this post.