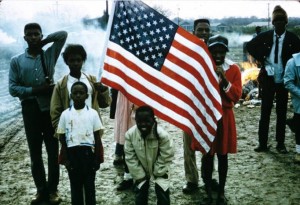 March 7, 2015 marks the fiftieth anniversary of the Selma-Montgomery March.
The Selma-Montgomery march was organized by the Southern Christian Leadership Conference (SCLC) to protest local resistance to African American voter registration in Dallas County, Alabama.
Under the leadership of the SCLC's Hosea Williams and the Student Nonviolent Coordinating Committee's John Lewis, a group of five hundred to six hundred demonstrators marched without incident through the streets of Selma until reaching the Edmund Pettus Bridge where they were brutally attacked by state troopers and mounted patrolmen.
The incident was captured on film by television cameramen, and "Bloody Sunday," as it came to be known, helped stimulate nationwide support for the passage of voting rights legislation.
Undeterred by the threat of violence, Martin Luther King Jr. led more than three thousand marchers across the Edmund Pettus Bridge only two weeks later.
From there, King's group made the 54-mile journey to the state capital under the protection of the recently federalized Alabama National Guard, arriving in Montgomery four days later.
Numerous archival collections and reference resources featuring the Selma-Montgomery March are available to view in the Civil Rights Digital Library, and can be accessed at http://crdl.usg.edu/events/selma_montgomery_march/

No tags for this post.