The City of Savannah, Research Library and Municipal Archives has recently made a new collection available through its online Digital Image Catalog: Public Information Office–Photographs, 1948-2000.
This collection contains digitized photographs, slides, negatives, and manuscript material maintained by the city of Savannah's Public Information Office, and document city-sponsored services, programs, and significant city events. There are also photographs of politicians and employees of city bureaus.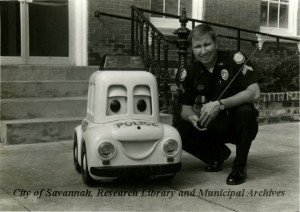 Images in the collection were used in both internal publications that included reports, newsletters, and identification materials, and promotional materials that advertised city services and programs. There are numerous images of Savannah city buildings that include City Hall, the Broughton Municipal Building, and the Civic Center, and other locations that include parks, street scenes, and historical structures.
We hope that you visit this collection and congratulate the City of Savannah, Research Library and Municipal Archives for providing another informative online resource.