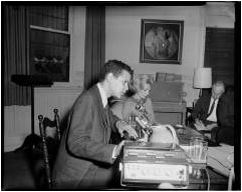 The Digital Library of Georgia remembers the life of activist, politician, writer, and educator Julian Bond who passed away Sunday at the age of 75.
As a student at Morehouse College in the late 1950s and early 1960s, Bond co-organized the the Committee on Appeal for Human Rights, a civil rights group that successfully desegregated Atlanta's public facilities. In 1960, Bond became a founding member of the Student Nonviolent Coordinating Committee (SNCC), where he served as the organization's communications director, and participated in southern voter registration drives. Bond later served in the Georgia House of Representatives for four terms (1967-1974) and then in the Georgia Senate for six terms (1975-1987). He was the first president of the Southern Poverty Law Center, a position he held from 1971 to 1979.  After leaving the Georgia Senate, Bond served as a distinguished professor in residence at American University and as a faculty member in the history department at the University of Virginia. From 1998 to 2010, Bond was chairperson of the NAACP.
The Civil Rights Digital Library provides access to numerous resources featuring Julian Bond at http://crdl.usg.edu/people/b/bond_julian_1940/ .