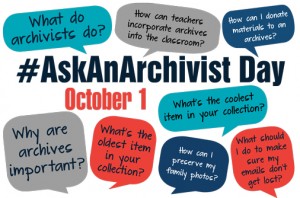 This Thursday, October 1, archivists around the country will take to Twitter to respond to answer your questions about any and all things archives tweeted with the hashtag#AskAnArchivist.
This day-long event, sponsored by the Society of American Archivists, will give you the opportunity to connect directly with archivists in your community—and around the country—to ask questions, get information, or just satisfy your curiosity. As professional experts who do the exciting work of protecting and sharing important historical materials, archivists have many stories to share about the work they do every day in preserving fascinating documents, photographs, audio and visual materials, and artifacts.
Increasingly, archival work extends beyond the physical and includes digital materials. #AskAnArchivist Day will give you a chance to connect with archivists who are tackling the challenges of preserving our digital heritage for the future.
Archivists participating in #AskAnArchivist Day are eager to respond to any and all questions you have about archives and archival work.
How does it work?
#AskAnArchivist Day is open to everyone—all you need is a Twitter account. To participate, just tweet a question and include the hashtag #AskAnArchivist in your tweet. Your question will be seen instantly by archivists around the country who are standing by to respond directly to you.
Do you have a question specifically for the Digital Library of Georgia?  Include our Twitter handle @DigLibGA with your question.
Don't have a question right away? Search Twitter for #AskAnArchivist and follow along as questions and answers are shared.
We hope that you get the chance to participate!