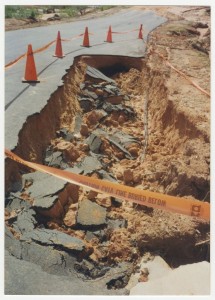 This past week has brought its share of severe weather and flooding to the Southeast. We just wanted to point out a few helpful resources  in Georgia Government Publications that will help you prepare for floods.
Quick guide: floodplain management in Georgia. Guide prepared by the Floodplain Management Office of the Georgia Department of Natural Resources to help you understand more about why and how communities in the State of Georgia manage floodplains to protect people and property.
After the flood: rehabilitating historic resources. This publication was put together by the Georgia Historic Preservation Division after Tropical Storm Alberto raged across southwest Georgia in July and August of 1994, wreaking havoc upon fifty-five counties and devastating the communities in its path. The publication provides instructions on how to rehabilitate your historic structure to a usable condition after a flood or other water-related damage has occurred.
Prepare for the worst; hope for the best: how to better protect your home from disasters. Step-by-step guide prepared by the Georgia Emergency Management Agency that includes inexpensive disaster rebuilding tips, instructions on how to protect flood-damaged structures, and how to fortify the outside of structures to keep rain, wind and water from getting inside.
FEMA  has recommended that people prepare for flooding by taking the following actions:
Know how and where to evacuate, if told to do so.
If you encounter flood waters on a roadway, Turn Around, Don't Drown.
Check your flood insurance policy. Know what is covered and what you need to file a claim. If you do not have a flood insurance policy, talk with your flood insurance agent about purchasing coverage for future losses – coverage usually does not become effective until 30-days after purchase.
Prepare your home for a flood. Move essential items to an upper floor, bring in outdoor furniture, disconnect electrical appliances and be prepared to turn off the gas, electricity and water.
Check on your neighbor – make sure they're ready too.