New online records that describe the history of Peachtree City, Georgia, one of the country's most successful post-World War II "new towns," are now available for researchers in the Digital Library of Georgia. The collection, Peachtree City: Plans, Politics, and People, "New Town" Beginnings and How the "New Town" Grew, is available at dlg.usg.edu/collection/frrls-pt_newtown and contains prospectuses, master plans, maps, conceptual drawings, newsletters, and administrative records dating from the 1950s to 2007.
Rebecca Watts, the librarian for the Joel Cowan History Room at Peachtree City Library, describes the importance of these resources:
"These materials will provide land planners, city planners, and those interested in how a city like Peachtree City came to be, with insight on its beginnings and early history, when the city was devoted to slow growth in an effort to keep a balance between industry, residential, and community amenities."
Ellen Ulken, the co-author of Peachtree City: Images of America (Arcadia Publishing, 2009) notes: "I found the city's early newsletters invaluable for tracking down stories, photos of people, issues, and progress of the early 1970s…I feel certain that the next person to come along and write a history of Peachtree City will be glad if this material is available and findable online. The digital format would ensure a long life for these newsletters."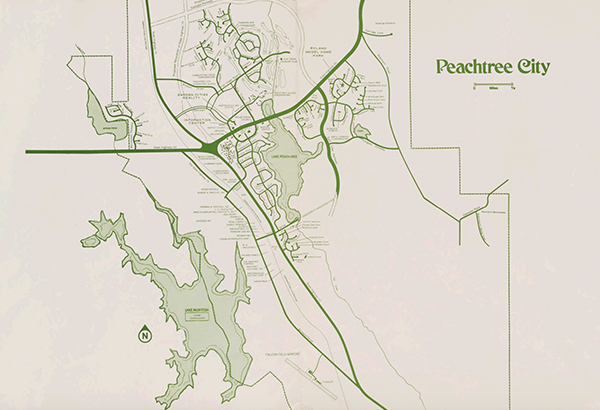 A later version of a larger 1974 Peachtree City, Georgia, promotional map (see peachtree-city.org/DocumentCenter/View/16684/ptc26), which highlights 24 named businesses, this map also prominently shows Lake McIntosh with a label indicating "under construction" rather than the more specific "opening in 1974" of the earlier map.
The lake was not completed until December 2012. Other notable changes to this map are that the "Ryland Model Home Park" is now shown east of Highway 74 on the south side of Highway 54 in the area of Hunter's Glen subdivision (not named as such on the map). Also, the Information Center has moved to Aberdeen Center on the north side of Highway 54 near the center of town, not far from its previous location.
What had been "Peachtree City Realty" on the earlier map is now renamed "Garden Cities Reality [sic]," which was formed in December 1974.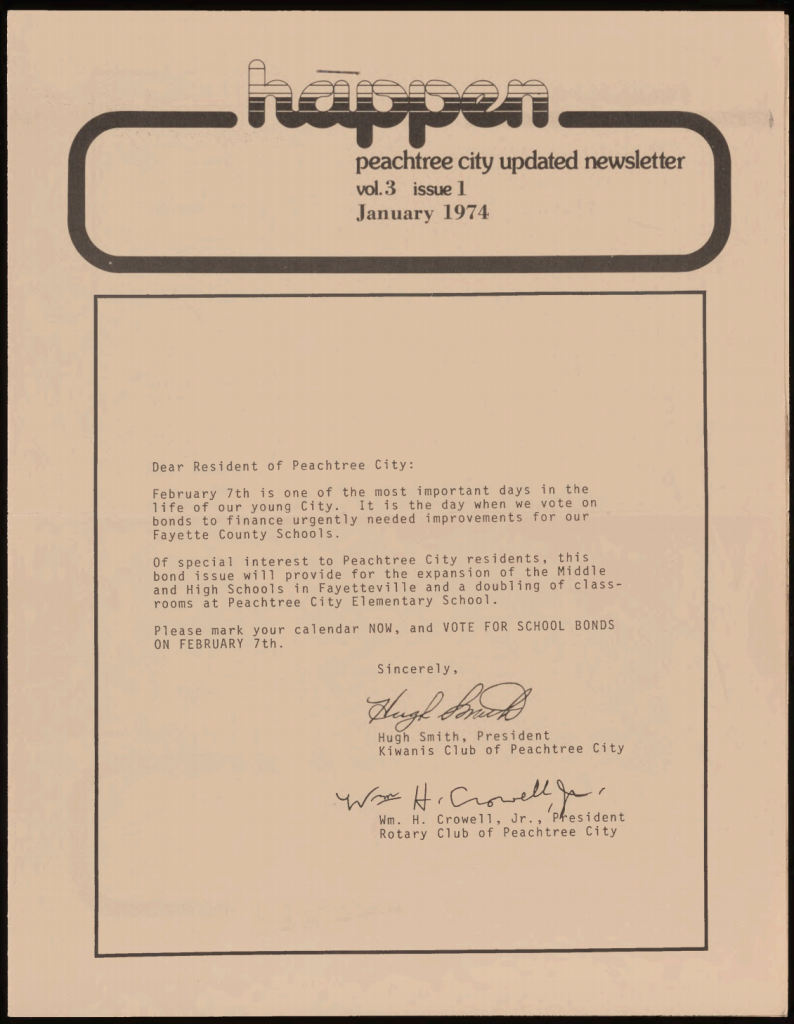 Happen: Peachtree City updated newsletter. Volume 3, issue 1, January 1974. Appeal letter signed by leaders of both Kiwanis and Rotary clubs to support the school referendum. Peachtree City police: Haskell Barber, Chief, Bob Mathis, John Hay, Fred Cox, Orval Harris, Richard Andrews, J.B. Wright. Greg and Nancy Pearre purchase a 1973 Volkswagen bus to provide carpool service for Peachtree Citians to commute to Atlanta. Lutheran Church being organized.
About Peachtree City Library
The Peachtree City Library serves the residents of Peachtree City, Georgia with adult programs, children's programs, and is a proud member of the PINES Library Consortium. Learn more at their web site, peachtree-city.org/125/Library.