On this week of Thanksgiving, we present depictions of the holiday throughout the last century in Georgia: the food, celebrations, commercialism, and football. You can find all of these images and more in the Digital Library of Georgia.
Thanksgiving themed ad for the Georgia Dental Parlors from the November 19, 1910 issue of the Atlanta Georgia and News as part of the Atlanta Historic Newspaper Archive.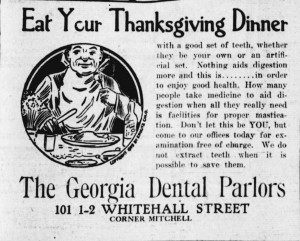 Handbill for the Douglass Theatre in Macon, Georgia in 1928 advertising a Thanksgiving double feature of "The Devil's Skipper" and "The Vanishing Pioneer." From the Blues, Black Vaudeville, and the Silver Screen, 1912-1930s Collection.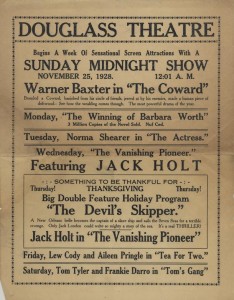 Thanksgiving Dinner at Warm Springs, Georgia circa late 1930s, with Basil O'Connor, President Franklin Roosevelt, Dr. Charles E. Irwin, and Fred Botts. President Roosevelt owned a residence in the town and visited often to utilize the springs, which eased his polio symptoms. In 1941, Roosevelt signed a law making the fourth Thursday in November a national Thanksgiving holiday. From the Vanishing Georgia Collection.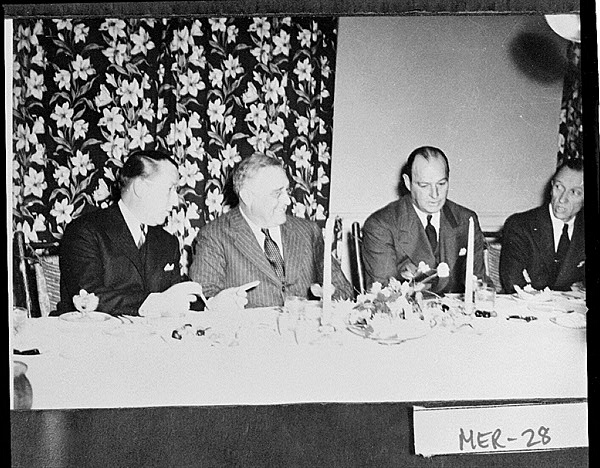 Article from the November 19, 1959 issue of the Red and Black about the Thanksgiving day football game between the University of Georgia and Georgia Tech freshman teams. From the Red and Black Archive.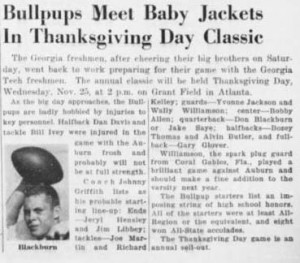 Thanksgiving recipe for rice pilaf from the November 21, 1986 issue of the Southern Israelite newspaper (by jodi at dresshead.com). The issue also included recipes for roast turkey and apple crisp. From the Southern Israelite Archive.