On James Brown's birthday, we highlight four places to find the Godfather of Soul in the Digital Library of Georgia (and one YouTube bonus):
1. The New Georgia Encyclopedia – Don't know much about James Brown? This is a good place to start. Although he was born in Barnwell, South Carolina, he was a Georgian through and through. He spent most of his life in and around Augusta, Georgia, where a street is named for him and a statue stands in his honor. The image below is included in the article courtesy of the Atlanta University Center, Robert W. Woodruff Library Archives.
2. The Red and Black Newspaper Archive – Included here is an article from the April 30, 1968 issue of the Red & Black (the University of Georgia's student newspaper) announcing a benefit concert he held in Athens to benefit underpriveleged children. Can you imagine seeing Soul Brother Number One for the ticket price of only $3.50? What a deal! There are many other news articles related to James Brown in the archive and can be searched by keyword.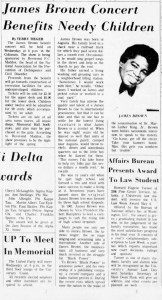 3. Georgia Government Publications – This is a December 28, 2006 press release from Georgia governor Sonny Perdue regarding the death of James Brown, who had passed away a few days earlier on Christmas.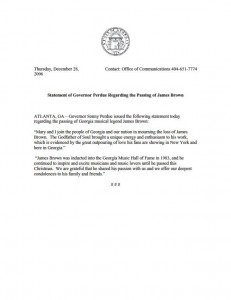 4. African American Funeral Programs from the East Central Georgia Regional Library – James Brown's funeral was held in the James Brown Arena in Augusta, Georgia and was officiated by the Reverend Al Sharpton. The program includes images, an obituary, an order of service, and even a list of his many sayings including: "I'd rather die on my feet than live on my knees."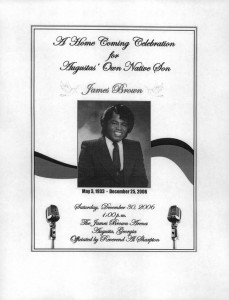 5. James Brown YouTube Concert Clip – They don't call him the Hardest Working Man in Show Business for nothing. Check out this clip of him performing Good Foot in concert in the early 1970s. It'll blow your mind.