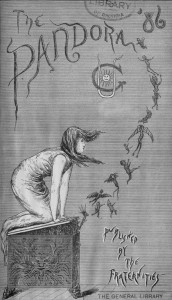 The Pandora, yearbook of the University of Georgia, was first published in 1886 by a consortium of university fraternities. It has been published annually since then (with the exception of a few early years).
The Digital Library of Georgia is pleased to announce that volumes of the Pandora, from its inception in 1886 to the year 1938 are now archived online at Athenaeum@UGA, the university's scholarly commons, and are available at:
http://athenaeum.libs.uga.edu/handle/10724/11925
These volumes are a rich source of institutional and social history.  The Pandora traces the growth and development of the University of Georgia, with a typical volume containing sections on faculty, departments, fraternities, clubs and organizations, and campus life. Genealogists and alumni can use the Pandora's class listings to flesh out family histories. For those interested in the social, the volumes provide bountiful evidence of changing styles, fashions, and social mores.
Finally, there is a noteworthy source of history in the advertisements that can be found at the end of most Pandora volumes. On their own, they are a compelling gallery of businesses that once operated in Athens and Atlanta.
It must also be noted that as the Pandora is reflective of its time, it contains offensive racial and gender stereotypes. In the interest of history, these volumes are presented uncensored.