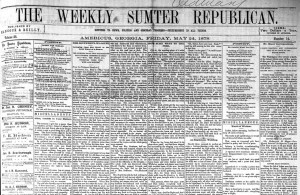 The Digital Library of Georgia will be represented on the small screen when Savannah, Georgia-based restaurateur, cookbook author, and Emmy Award-winning television personality Paula Deen  is featured during the season finale of the NBC genealogy documentary series "Who Do You Think You Are?"  The episode is scheduled to air tonight (Friday, May 18) at 8 p.m, EST.
In this episode, Deen, a native of Albany, Georgia, works with genealogical researchers and historians who have explored her ancestral history using resources from collections belonging to the Hargrett Rare Book and Manuscript Library,  and issues of the Weekly Sumter Republican found in the DLG's  South Georgia Historic Newspapers Archive.  Advance promotional clips of the episode show Deen looking through original materials written by and about several of her ancestors, including Confederate soldier William Batts, who served with the 12th Georgia volunteer infantry regiment during the Civil War; and her great-great-great-grandfather John Batts, a cotton planter from Lee County, Georgia who also served in the Georgia state legislature during the 1850s and 1860s.
The episode was shot at several different locations across the state, including Deen's hometown of Savannah, and Athens, Georgia, where scenes were filmed during late March at the new University of Georgia Richard B. Russell Building Special Collections Libraries, the new location for the university's three special collections libraries: the Hargrett Rare Book and Manuscript Library, the Walter J. Brown Media Archives and Peabody Award Collection, and the Richard B. Russell Library for Political Research and Studies. All three of these repositories have collections that are represented in the DLG.
We will update the blog and the DLG Facebook page after the episode airs with any relevant updates, and as we learn when this episode is scheduled for rebroadcasting or streaming on the Web.

No tags for this post.