October is Georgia Archives Month!
During the month of October, archives and libraries remind people that items that are important to them are being preserved, cataloged, cared for, and made accessible by archivists and librarians.
Did you know:
Archives and special collections are:
Records of enduring value, or of the human experience that may include letters, photographs, sound recordings, books, maps, newspapers, and, increasingly, digital records.
Archivists are the professionals who:
are experts in managing archives and special collections, and focus on collections found in universities, businesses, governments, historical societies, and public libraries.
The 2021 theme for Georgia Archives Month is "Salute to Medicine: A celebration of the medical profession and the archives that document the field."
Start by downloading and printing a 2021 Georgia Archives Month poster here, and displaying it in your work area!
You can also check out all of the items in our collections pertaining to this theme at Check out the items in our collections that are related to this year's #GAArchivesMonth theme at bit.ly/DLGGeorgiaArchivesMonth2021.
In addition, and as an example of this year's theme, the DLG is sharing an ad from The Sunny South of December 6, 1890, which features a proposed design for the recently-established Grady Hospital.
Full issue available at Georgia Historic Newspapers.
We have created versions of this image for you to share on your favorite social media platform.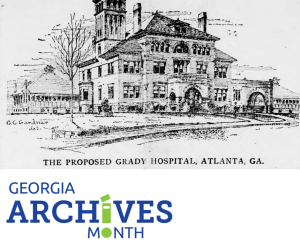 Share on Facebook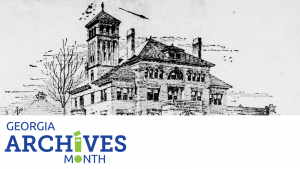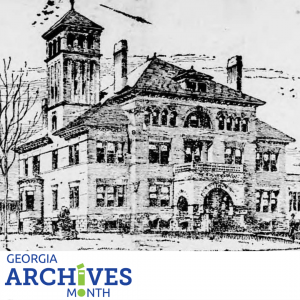 This Archives Month, we would like to remind you that:
A new exhibit site developed by the Digital Library of Georgia (DLG) and the New Georgia Encyclopedia (NGE) explores overlooked Georgia stories and

feature materials drawn from Georgia libraries, archives, and museums

whose collections are available through the DLG

. 

You can celebrate Georgia

Archives

 

Month

virtually with thousands of free-to-use images and items in the DLG. Reuse them, remix them, GIF them up, or explore!
DLG is a resource for National History Day Georgia. This year's theme is Debate and Diplomacy in History. Be sure to check out DLG director Sheila McAlister's slide deck on how to use online primary sources for your research!
Wednesday, October 13 is #AskAnArchivist Day. On this day, archivists around the country will take to Twitter to respond to questions tweeted with the hashtag #AskAnArchivist. If you have a question that is specific to the DLG, just tag us using our Twitter handle, @DigLibGA, and use #AskAnArchivist. Your questions can be silly or practical–either way, we're looking forward to answering them.
Thursday, October 21, at 2 pm EST, the DLG will host a webinar titled: "Every Step You Take: Practical Steps for Inclusive & Reparative Description." In this talk, Betts Coup,

processing archivist

at Houghton Library at Harvard University, co-chair of the Reparative Archival Descriptive Task Force at Harvard, and member-at-large of the SAA Description Section Steering Committee

will discuss several aspects of creating inclusive and reparative archival description. From advocacy approaches to carrying out inclusive and reparative description at accessioning, throughout a large-scale backlog project, and as part of a large-scale reparative reprocessing project, Coup will speak about the reasons why this work is so important and go through practical, applicable steps for improving access to archival materials for a broad range of users. DLG will provide a recording of the workshop for those who cannot attend the event. Register here.