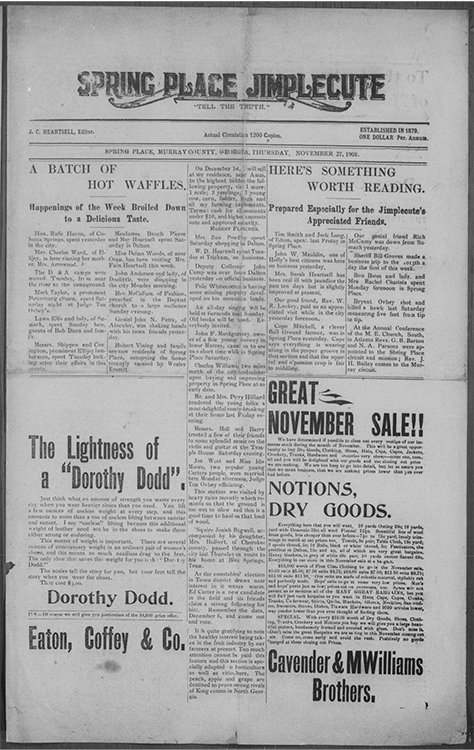 By Donnie Summerlin and Mandy Mastrovita
As part of a $27,103.50 grant from the R. J. Taylor, Jr. Foundation, the Digital Library of Georgia has digitized over 109,000 pages of Georgia newspaper titles.
The newly-released collection includes Georgia newspapers of the late 19th
century from under documented Georgia counties from microfilm held by the Georgia Newspaper Project.
The project creates full-text searchable versions of the newspapers. It presents them online for free in its Georgia Historic Newspapers database.
Users will be able to search the database for geographic, corporate, family, and personal names.
120 titles have been digitized from the following Georgia cities:
Abbeville, Adel, Arlington, Ashburn, Blackshear, Blairsville, Blue Ridge, Bogart, Buchanan, Carnesville, Conyers, Cordele, Crawfordville, Decatur, Demorest, Dupont, Eastman, Ellaville, Excelsior, Fitzgerald, Forsyth, Fort Gaines, Fort Valley, Gibson, Gray, Guyton, Hamilton, Harlem, High Shoals, Homerville, Jasper, Jesup, Kingsland, Knoxville, Leary, Lexington, Lincolnton, Lithonia, Lumpkin, Macville, Morgan, Morganton, Ocilla, Roberta, Sparta, Spring Place, Statenville, Statesboro, Stillmore, Sycamore, Sylvania, Toccoa, Watkinsville, West Bowersville, Wrightsville, Young Harris, Zebulon
The following counties are now represented in the Georgia Historic Newspapers database for the first time:
 Ben Hill, Bulloch, Calhoun, Camden, Clay, Clinch, Crawford, Crisp, DeKalb, Dodge, Echols, Effingham, Emanuel, Fannin, Glascock, Irwin, Johnson, Jones, Lincoln, Murray, Oconee, Oglethorpe, Pickens, Pierce, Schley, Screven, Taliaferro, Towns, Turner, Union, Wilcox
Titles of interest include:
Advocate-Democrat (Crawfordville) – A Populist newspaper published in the least-populated county in Georgia (Taliaferro County).
Haralson Banner (Buchanan) – Haralson County's first newspaper.
Spring Place Jimplecute – A paper published in Murray County with a unique name of unknown origin.
Statesboro Eagle – The official organ of Bulloch County in the early 1890s.
Toccoa News – A successor to the county's first newspaper, the Toccoa News began publication in 1879 and continues to cover the news of Stephens County today as the Toccoa Record.
The full list of titles digitized as part of the grant includes:
Abbeville Chronicle, 1898-1901
Advertiser (Fort Gaines), 1887-1890
Advocate-Democrat (Crawfordville), 1893-1906
American Union (West Bowersville), 1885-1896
Banner-Messenger (Buchanan), 1891-1900
Baptist Reporter (Guyton), 1888
Blue Ridge Post,  1893, 1900, 1913
Bulloch County Banner (Statesboro), 1893
Bulloch Herald (Statesboro), 1899-1901
Bulloch Times (Statesboro), 1893-1898
Calhoun County Courier (Leary), 1882-1902
Carnesville Advance, 1899-1917
Carnesville Tribune, 1890-1894
Clay County Reformer (Fort Gaines), 1894
Clinch County News (Homer), 1898-1911
Columbia Sentinel (Harlem), 1885-1923
Conyers Weekly-Banner, 1901-1902
Correspondent (Roberta), 1892-1903
Crawfordville Advocate, 1895-1896
Crawford County Correspondent (Roberta), 1892
Crawford County Herald (Knoxville), 1890-1892
Crawfordville Democrat, 1881-1893
Democrat (Crawfordville), 1877-1881
Dodge County Journal (Eastman), 1887
Enterprise (Carnesville) 1890-1892
Enterprise-Record (Gibson), 1892
Fannin County Gazette (Mineral Bluff), 1891
Fitzgerald Enterprise, 1898-1902
Franklin County Register (Carnesville), 1878-1888
Fort Gaines Sentinel, 1895-1902
Georgia Farmer (Statesboro), 1892
Hale's Weekly (Conyers), 1892-1895
Hamilton Journal, Published Semi-Weekly, 1885-1887
Hancock Weekly Journal (Sparta), 1869-1870
Haralson Banner (Buchanan), 1884-1891
Industrial Banner (DuPont), 1892
Irwin County News (Sycamore), 1893-1897
Jones County Headlight (Gray), 1888-1889
Jones County News (Gray), 1895-1906
Lincoln Home Journal, 1898-1902
Lumpkin Independent, 1883-1902
Monroe Advertiser (Forsyth), 1888-1910
Murray County Gazette (Spring Place), 1879
Murray News (Spring Place), 1897-1909
North Georgia Times (Spring Place), 1881-1891
Oconee Enterprise (Watkinsville), 1887-1916
Oglethorpe Echo (Crawford), 1878-1903
People's Advocate (Crawfordville), 1893
Pickens County Herald (Jasper), 1888-1899
Pickens County Progress (Jasper), 1899-1926
Pike County Journal (Zebulon), 1888-1902
Record (Wrightsville), 1897-1900
Rockdale Banner (Conyers), 1888-1900
Schley County Enterprise (Ellaville), 1886-1888
Schley County News (Ellaville) 1889-1900
Solid South (Conyers), 1883-1892
South Georgian (Macville), 1879-1880
Southeast Georgian (Kingsland), 1895-1932
Southern Times and Planter (Sparta), 1874
Sparta Times and Planter, 1874
Spring Place Jimplecute, 1891-1903
Times-Journal (Eastman), 1889-1899
Toccoa News and Piedmont Industrial Journal, 1889-1893
Watkinsville Advance, 1880-1881
Wayne County News (Jesup), 1897-1910
Weekly Banner (Conyers), 1900-1901
Wrightsville Recorder, 1880-1902
Digital Library of Georgia director Sheila McAlister notes, "The newest addition to our newspaper portal is a fascinating look at the growth of the newspaper industry in Georgia and communities' reactions to the New South's hopes for industrialization. These local, rural papers provide us with a snapshot of life during this transitional period. We appreciate the continued support of the R.J. Taylor, Jr. Foundation." 
About the R. J. Taylor, Jr. Foundation 
The purpose of the R. J. Taylor, Jr. Foundation Trust is to promote genealogical research and study in Georgia in conjunction with the Georgia Genealogical Society and the Georgia Archives. Grants are made to individuals and organizations to defray the expense of publishing (print or digital) records of a genealogical nature from public and private sources. The primary emphasis is on preserving and making available to the public genealogical data concerning citizens of Georgia who were residents prior to 1851. Visit the R. J. Taylor, Jr. Foundation at http://taylorfoundation.org/